About Presto! Resto
WHY PRESTO! RESTORE REBUILD
Welcome to Presto! Restore Rebuild (Presto Resto) where we are "Restoring Sanity to Restoration Services!" We are restoring sanity to the restoration industry business model by being the home of the cost-effective mold remediation and water damage restoration in Southern California. We are licensed, bonded, insured, and IICRC certified in water damage restoration and mold remediation.
Read more
WHAT WE CAN DO FOR YOU
Whether it is mold remediation, water damage restoration, or reconstruction, Presto Resto will provide professional customer service, thorough and high-quality work products, and competitive pricing while also offering licensing, insurance, certifications, and experience that is top-notch!
Read more
PUBLIC SERVICE ANNOUNCEMENTS
Hire Licensed Contractor for Your Protection!
NO LICENSE! In California, it is illegal to perform repairs greater than $500 without a contractors license. If the job […]
Read More
PRICING
Our pricing structure is unique to each project. There are several pricing methods that are used in the construction industry. We will use the one that best fits the specifics of your job to make it affordable for you. Typical pricing models include Square Footage, Time & Materials, Direct Cost + Overhead + Profit, and Low-Price Guarantee.
We propose that you shop at least one other company before approaching Presto Resto for a bid. We will request your other bid(s) and crunch the numbers to achieve a better price for you. All other things being equal, we would expect you to sign a contract with us after a lower price is offered. That way you know you got the best price based on your own due diligence efforts.
FREQUENTLY ASKED QUESTIONS
Stay tuned...
LATEST BLOG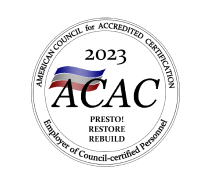 Jason Harris of Presto! Restore Rebuild (Presto Resto) Earns Accredited ACAC Certification (CMRS)
Jason Harris has been awarded the Council-certified Microbial Remediation Supervisor (CMRS) designation by the American Council for Accredited Certification (ACAC). […]
Read More
Testimonials
Professional, Friendly, Well Informed.
Jason has done an excellent job.
Very professional. Tenants were impressed on how well they cleaned up after themselves.
Great job! Presto Resto was very trustworthy and everything happened as explained.
Very professional. Jason gave a reasonable quote and completed the job in a timely manner. I highly recommend this company.